This is part 2 of the Morbid Angel gig that I went to on 30/5/09 in Auckland, NZ at the Transmission Room.
Part 1 is here

I got to the venue at around 8.40pm seeing that doors open at 9. To my surprise, doors opened at 8.30pm. I quickly tried to get in. The queue was not that long. As I approached the door, there were 2 rows - 1 for tickets & 1 for people who had tickets. I showed the guy my printed ticket and was told to go to the row for buying tickets. Damn... had my security tag put on and down I went the stairs.
The Transmission Room is like 3 floors down. The entrance/staircase was on Mayoral Drive. Got down and heard some black metal playing - Vassafor has started their set. Went to the merch booth and got my self 2 tour t/s. 1 for me, size L and 1 for mulut_fie, M. There were only 2 cd's on the table - Vassafor's and Dawn of Azazel. DOA was their promo 08 for $5 and Vassafor's cd was $20. I went for DOA since I was blown away last time I saw them live with Psychroptic.
Got inside, went straight to the front, where I usually go in gigs. Whoa, 'tr00' black metal with cow or sheep skulls tied on the drums & mic stands with barbed wire. Damn. The guitarist is chinese and the singer was wearing a hoodie. Only heard like 3 minutes of their set, so can't really comment on the songs. The sound was shite for their set.
After what seemed a long time in clearing up Vassafor's kit, Dawn of Azazel were rushed to start their set. They weren't even ready when they were asked to start but Rigel and co. really are pros at this. They are NZ's most famous metal export and most hard working as well, albeit underrated. They played sets from all their releases, my favourite - Fornication Revelation as well. Rigel is so impressive with his tatoo all along his right arm and bald head. It was so hot in their that the singer took off his Blasphemy t/s. What can I say about DOA? Their set really got me in the mood for Morbid Angel! Cheers Rigel for another great set.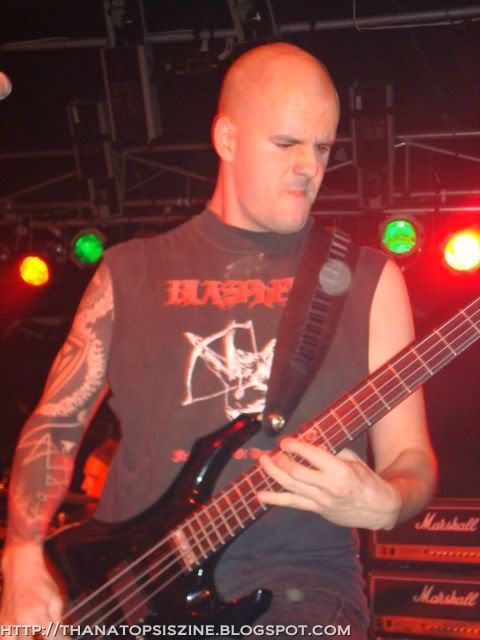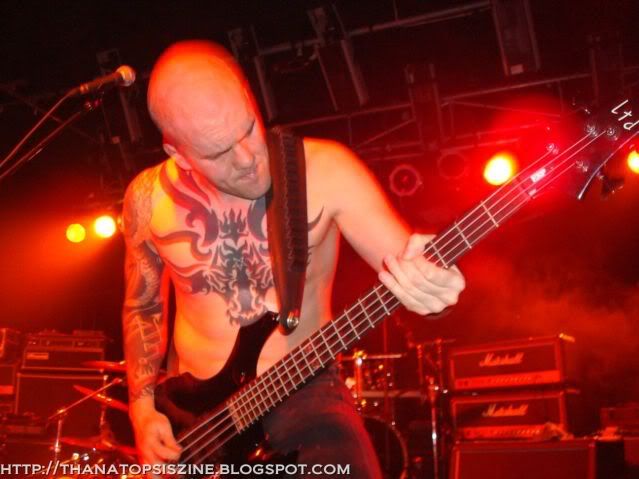 During the set-up, Augusta from
augustaphotos.co.nz
was beside me. We were standing in front of Trey's setup and she managed to get a shot of the set list! Chapel of Ghouls, Maze of Torment... damn!! Hurry up!
Almost 10pm and Morbid Angel started their set. Trey was in a 'Hardcore United' t/s and David was in PVC gear. They look so old on stage, reminds me when I saw Sodom in Dublin. These aging metal heads, still plying their trade after all these years. It's true what Nicko McBrain said in Flight 666, the audience stays the same, but the band ages... Destructhor was the only guy who looked less than 40 on stage!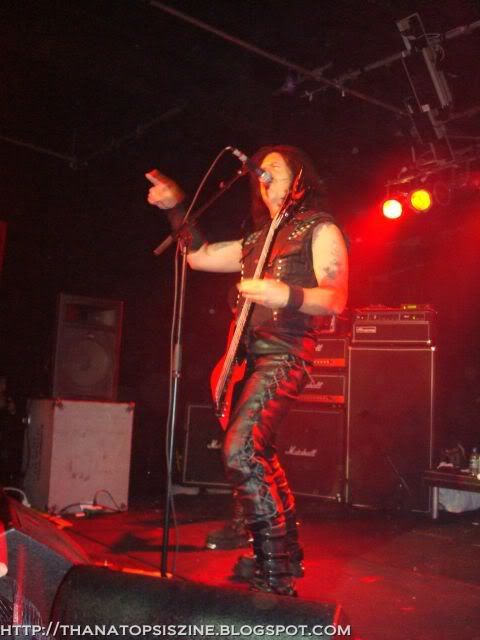 MA kicked off with Rapture and everybody was rushing to the front. Rapture kicked things off! As the gig went on, I was slowly being pushed to the side and eventually stayed on the side. David is one funny dude, before each song he would say a few things that were amusing and funny. Can't remember any of it now. Someone commented on the NZMetal forums that he's as funny as Glen Benton. Can you imagine that?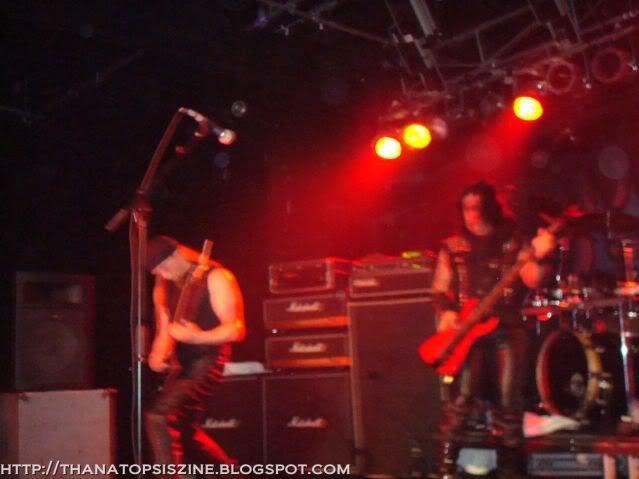 Excellent set of Morbid Angel. As always with gigs, there has to be an 'encore'. The band would leave the stage and after the fans call out for 'We want more', they emerge to play 1 last song and that was World of Shit. No songs from Heretic or Gateways.

Good ending to what was an excellent show. The only problem with the gig was that I wasn't allowed to take more photos/videos of MA's set by the bouncers as mentioned in the previous post. It was MA's decision not to let people take more photos after the 3rd song. It's a first for after all these times going to gigs. What's up MA? We paid $70 for the show and waited a long time for you guys to be to these shores and we can't take more photos/videos of you? WTF?

Setlist:
Rapture
Pain Divine
Maze of Torment
Nevermore
Sworn to the Black
Dawn of the Angry
Where the Slime Live
Blood on my hands
Bil Ur Sag
Dominate
Immortal Rites
Fall from Grace
Lord of All Fevers
Blasphemy (Holy Ghost)
Chapel of Ghouls
God of Emptiness
World of Shit