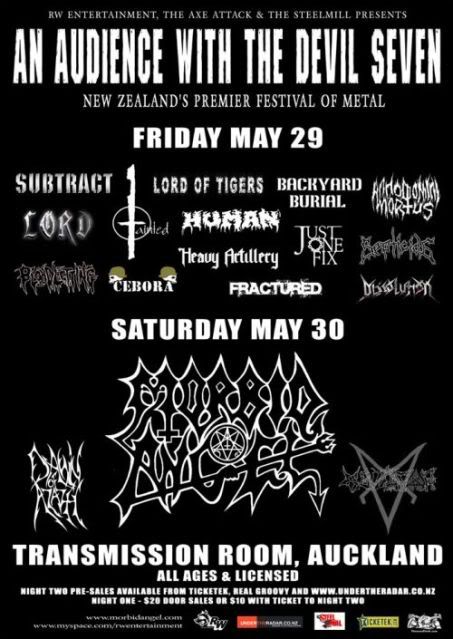 Back to the Metal!!!!!
Labelled as NZ's premier festival of metal and according to the "Seven", I guess it's been going on for seven years?
2 Days of metal mayhem at Auckland's Transmission Room. I've never been to Transmission Room, the only other place/gig I went to was the Psycroptic gig last November and I can't think of the name right now, maybe it will come back to me.
1st day is all NZ bands, all of whom I've never heard of. I'm planning on going obviously to Morbid Angel - on the 2nd day with Dawn of Azazel (killer band, hard working as hell! NZ's premier Metal export!) and Vassafer (who play Black Metal).
Tickets for day 2 are $68 but can range between 65-70, depending where you get them. I'm 90% going to this! Last time saw Morbid Angel was back in 2001 (Again can't remember) back in Dublin, Ireland. Should be a blast!